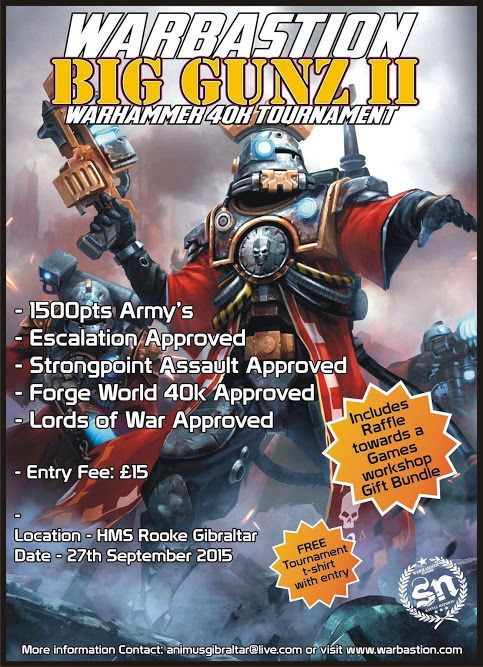 Location:

Tercentenary Sports Hall - Bayside Road [Click here for directions


Date:

Sunday 22nd November


Entry Fee:

£15.00
Tournament Details
Maximum players: TBC
Army Composition
1. Each player has 1500 points to create an army list following the normal rules. All units/detachments/formations are allowed with the following exceptions: Apocalypse exclusive units, apocalypse exclusive formations/detachments
(2) Armies MUST be fully assembled, painted and based.
(3) Models must accurately represent their unit type (e.g. you can not use space marine rhinos represented as predators). Wargear does not need to be WYSIWYG, but it is recommended and encouraged. Armies that are WYSIWYG would add minor points, which could edge you above an opponent in the case of a tie break once all games have been totaled.
Scoring
There will be 4 games played and scenarios will be split into two types which are the following:
Two of the scenarios will consist of 3 objectives, a primary, secondary and tertiary objective. Points are as follows:
Primary Objective: 12vp
Secondary Objective: 7vp
Tertiary Objective: 3vp
First blood, Linebreaker & Slay the Warlord: 1vp each
The other two scenarios will be using the maelstrom missions, however there will be a cap at 25 victory points. If you earn more, it will remain at 25vps for the purposes of determining the overall winner for the event.
When drawing your drawing your maelstrom cards, if there is absolutely zero possibility of achieving the objective, you may immediately discard it and draw a new card. That being said, if there is even the slightest remote possibility of achieving the mission, regardless of how slim or ludicrous it may be, then you must accept the card.
All maelstrom objectives that grant D3 points, automatically grant 2 points. Missions that award D6 victory points, count as 3 points.
Mysterious objectives will not be used.
All scenarios will be using the Dawn of War deployment setup.
The scenarios will be as follows:
Scenarios
Mission 1:
Maelstrom: Cleanse and Control
Mission 2:
Primary Objective: Purge the Alien
Secondary Objective: Emperor's Will
Tertiary Objective: The Relic
Mission 3:
Maelstrom: Deadlock
Mission 4:
Primary Objective: The Relic
Secondary Objective: Table Quarters
Tertiary Objective: Purge the Alien
Schedule
Doors open (All players are expected to arrive between this time)
09:00am - 09:15am
Introduction
9:15am - 9:45am
Game 1
09:45am - 11:30pm
Game 2
12:00pm - 1:45pm
Lunch
1:45pm - 3:45pm
Game 3
3:45pm - 5:30pm
Game 4
6:00pm - 7:45pm
Awards
7:45pm - 8:00pm
Registered Players
1. Julian - Craftworld Eldar + Harlequins
2. Chema - Tyranids
3. Chris - Khorne Daemonkin
4. Carlos - Space Marines (Ultramarines)
5. Aaron Mosq. - Orks
6. Joseph - Adeptus Mechanicus
7. Quini - Orks (Speed Freaks)
8. Manolo - Space Wolves
9. Dave - Tyranids
10. Ethan - Dark Eldar
11. Gabi - Space Wolves
12. Aaron - Craftworld Eldar
13. Adam - Tau Empire
14. Jamie - Orks
15. Steven - Space Marines (Raptors)
16. Mark - Adeptus Sororitas
Army lists can be downloaded here:
Army Lists
Lists must be submitted to me at anarkhia@hotmail.co.uk by 15th November 2015
If you interested in signing up please let us know directly or comment on this thread.
Please check the thread occasionally as additional information might be posted over the next coming days.
If there are any further questions, feel free to post them here.
---
Im in Space Marines - raptors chaper tactics
---
Posts: 2
Joined: Tue Oct 06, 2015 1:24 pm
Hello!!

Chema Triguero - Tyranids
---
Put me down with daemonkin
---
---
Posts: 1
Joined: Sun May 18, 2014 10:40 am
Location: Wellington, New Zealand
I'm in
Aaron Mosquera -Orks
---
Posts: 1
Joined: Tue Oct 06, 2015 3:53 pm
I´m in Speed Freaks (orks). My name is Joaquin Montero, "Quini".
---
Posts: 2
Joined: Tue Oct 06, 2015 1:24 pm
I change de Tyranids for Khorne Latinskins, My name Chema Triguero Morilla
---
Put me down with the tyranids
---
Return to General Info & Events
Who is online
Users browsing this forum: No registered users and 0 guests